Welcome to L'Ecole
Before greats like Bobby Flay, David Chang, and Dan Barber entered the culinary industry, they were students who dazzled diners at L'Ecole. As one of New York City's premier restaurants, offering a top-quality dining experience at a great value, L'Ecole is where students of The International Culinary Center's culinary arts program impress guests with their cooking on a daily basis. Reserve your table today before our students take the industry by storm.
THE RESTAURANT
Behind every meal at L'Ecole is the passion and dedication of over 60 Chef-Instructors and students from every corner of the school.
As a true collaboration between the Culinary, Pastry, and Bread departments at The International Culinary Center, L'Ecole is where the skills and training of our students shine through in thoughtfully prepared and elegantly presented dishes created with the finest and freshest seasonal ingredients.
If you love great food, there's no place better than L'Ecole to get an upscale meal at a surprisingly reasonable price.
Follow L'Ecole on Facebook
BEHIND THE SCENES AT L'ECOLE
The International Culinary Center, founded in 1984 as The French Culinary Institute, has prepared some of the best classically trained cooks in the industry. Our deans–Jacques Pépin, André Soltner, Alain Sailhac, David Kinch, Emily Luchetti, José Andrés, and Jacques Torres–are culinary legends who help to oversee the acclaimed, innovative curriculum that includes L'Ecole as a training ground for our most senior Culinary Arts students.
Students work at every station in our restaurant kitchens as part of their rigorous education (six months by day or nine months at night). This means that in a fraction of the time it takes other schools, they are industry ready when they graduate.
After training in our cutting-edge facilities with our team of passionate, veteran chef-instructors, students embrace the challenge to cook for discerning guests in a working restaurant. And diners at L'Ecole love the excitement of being served delicious meals by students who could go on to become the next celebrated culinary icons.
The International Culinary Center is home to many disciplines, from Career and Amateur to Wine Studies and Restaurant Management. While only Culinary Arts students cook on the line in L'Ecole, every student learns hands-on techniques and theory while using top-notch ingredients and the latest technologies.
We invite you to tour our kitchens for a behind-the-scenes look at the school's many programs. Contact us at 888.324.2433 to schedule an appointment or join the group tour departing at 3:00pm each weekday from the Admission Office (462 Broadway, 4th Floor).
AWARDS & REVIEWS
Zagat®
Out of a possible 30, each score falls under "Very Good to Excellent." Food 25 - One of SoHo's top food ratings Decor 20 Service 24
"Budding star chefs" "give the best they've got" at this "student-run" affair in SoHo; there may be "a misstep or two," but its "aim-to-please" mien and "value" prix fixes keep it "memorable."
Michelin® Bib Gourmand
L'Ecole received its fifth consecutive Bib Gourmand in the 2013 Michelin® Guide. Indicating an inspector favorite for good value, the rating means you can enjoy two courses and a glass of wine or dessert (not including tax and gratuity) for around $40.
"If you want to be a guinea pig, this is the place to do it. The restaurant associated with The International Culinary Center provides the opportunity for its students to show off what they've learned. They've certainly mastered the first rule of good cooking: use the best ingredients you can find and don't mess around too much with a good thing.
"The kitchen earns top marks for its four- or five-course dinner menus, and the prix-fixe lunch menu is a great – and inexpensive – way to sample the flavorful regional French fare, which changes every six weeks. A conscientious waitstaff caters to customers in a soothing yellow room decorated with photographs depicting the bustling world of a restaurant kitchen."
Wine Spectator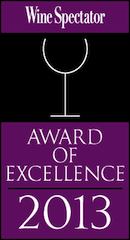 Award of Excellence
Only wine lists with quality producers are given this prestigious award. L'Ecole was recognized for offering a diversity of wines that appeal to a wide range of palates while maintaining a thematic match to our menu in both price and taste.
Best of Award of Excellence
Exceeding the requirements of the Award of Excellence, our wine list was awarded for its superior presentation, display of vintage depth, with several vertical offerings of top wines, and excellent breadth across several wine regions.
Wine Enthusiast
Award of Unique Distinction
Restaurants are judged on their personnel, storage methods, stemware choices, service options, special events, menus, size and scope of their wine lists, and more. L'Ecole was recognized for its superior rating in all of these categories and for being among those restaurants in the United States most enthusiastic about wine.
Crystal Beverages Awards
Award of Merit for Best Cocktail List
The Crystal Beverage Awards honor the best on-premise beverage programs across the United States. L'Ecole was recognized for its diverse and appetizing cocktail list, including its groundbreaking Red-Hot Ale and other heated spirits.
Yelp.com
A few choice quotes from recent diners: "Easygoing. Tasty. Tasteful." "Our servers were perfect and did their job flawlessly with great timing." "One of the best deals in the city." "Wine selection not to be overlooked." "Mmm… So good." Read more reviews on Yelp.com.
Trip Advisor
Reviewers named L'Ecole as one of top 25 favorite restaurant in New York City in the 2012 Traveler's Choice Awards.
HOURS AND RESERVATIONS
To make a reservation contact us at 212.219.3300 or visit Open Table.
BRUNCH
Saturdays, 11:00am - 3:00pm
LUNCH
Monday to Friday, 12:00pm - 2:00pm
DINNER
Professional Menu
Monday to Saturday, 5:30pm - 7:00pm
Student Menu
Monday to Saturday 8:00pm – 9:45pm
THE LATEST AT L'ECOLE
Check back often to find out about upcoming events, additions to our menus, special drinks, and more.
TOP REVIEWS & PRESS
L'Ecole's achievements are frequently highlighted in the press. Check out the listings below to see what people have been saying.
Another Bib Gourmand
L'Ecole receives its sixth consecutive Bib Gourmand in the 2014 Michelin® Guide.
The Fourchu Lobster Featured on Gothamist
Gothamist declares the "very best lobsters in the world" are back in NYC and are brought to you by yours truly, L'Ecole.
Traveler's Choice Award
The votes are in for Trip Advisor's 2012 Traveler's Choice Awards, and reviewers named L'Ecole as one of their top 25 restaurants in New York City.
The Art of the Lunch Deal
Serious Eats gives L'Ecole "top marks" for our three-course prix fixe lunch in their regular review column.
L'Ecole Featured on NY1
NY1's Zagat Reviews offered an inside look at L'Ecole. The spot showed students cooking as part of their curriculum and spoke to the chef-instructors overseeing their work. Read more.
CONTACT AND RESERVATIONS
For reservations call 212.219.3300 or visit Open Table.
We welcome your questions and feedback. Please contact us at lecole@intlculcenter.com.
L'Ecole 462 Broadway New York, NY 10013
Follow L'Ecole on Facebook
DIRECTIONS
L'Ecole is located at 462 Broadway On the corner of Grand Street New York, NY 10013
To make a reservation contact us at 212.219.3300 or visit Open Table.
GIFT CERTIFICATES
L'Ecole is pleased to offer gift certificates year round, in any denomination. Simply complete an order form and fax it to 212.334.4866. Contact us 212.219.3300 with any questions.
PRIVATE PARTIES
L'Ecole's warm and inviting dining room is the perfect setting for any occasion. Whether it be a birthday brunch, a business dinner, or a holiday bash, allow us to host your next special event.
The dining room can accommodate 70 seated guests or a standing cocktail party of up to 100 guests.
Contact Joseph Scalice at 646-254-7551 or jscalice@culinarycenter.com.
JOIN OUR TEAM
L'Ecole seeks experienced, dedicated individuals who are passionate about fine food and wine to join our service staff. If you fit the bill, send your resume to Joseph Scalice at jscalice@culinarycenter.com